SM 101 EXPRESS LANES POLICY AND GOVERNANCE
Express Lane governance:
The management and operation of the Express Lanes is governed by the San Mateo County Express Lanes Joint Powers Authority (SMCEL JPA), a six member joint powers authority consisting of three San Mateo County Transportation Authority (SMCTA) Board members and three City/County Association of Governments of San Mateo County (C/CAG) Board members.
Board meeting material and information is available on the C/CAG website.
Construction:
SM 101 Express Lanes Project
Project Overview:
Caltrans is constructing express lanes on US 101 in San Mateo County in partnership with the SMCTA and C/CAG.
The existing HOV lanes will be converted into express lanes from the San Mateo County/Santa Clara County line to Whipple Avenue in Redwood City. Caltrans will add an additional lane to northbound and southbound US 101 from Whipple Avenue to I-380 in South San Francisco, and then convert the far left lanes to express lanes.
Ultimately, this will create 22 miles of express lanes in San Mateo County and provide a seamless connection to the express lanes being constructed in Santa Clara County.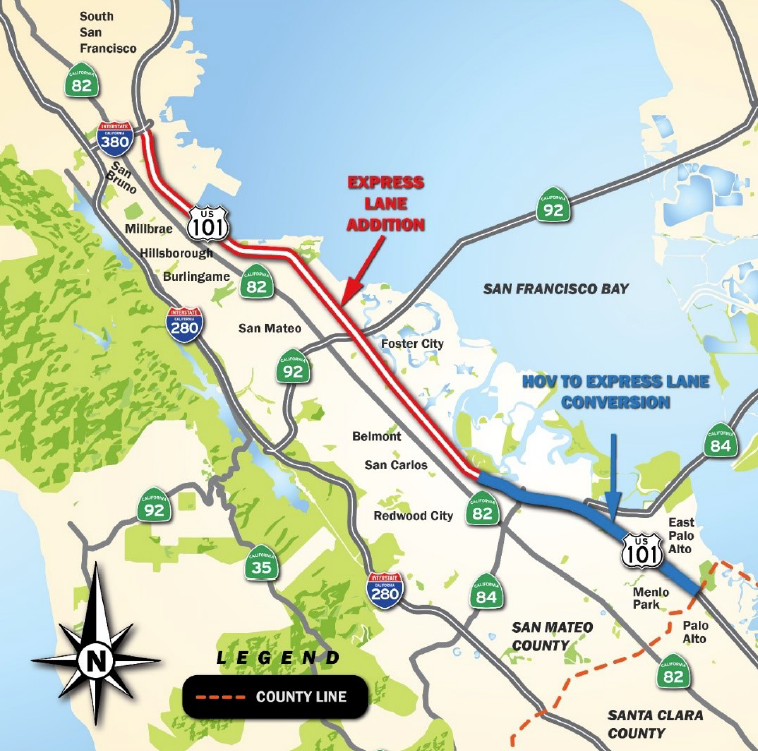 Project Benefits:
Encourage carpooling and transit use
Improve travel time and reliability for express lane users
Increase person throughput (the number of people moved)
Use modern technology to manage traffic
Reduce congestion in the corridor
Make upgrades to pavement and lane striping
Schedule
The project is being constructed in two phases. Construction on the southern phase, which extends from the Santa Clara/San Mateo County line to Whipple Avenue began in March of 2019 and is expected to be completed in late 2021. Construction on the northern segment that runs from Whipple to I-380 began in February 2020 and is scheduled to be completed in late 2022. The express lanes will open for operations once construction is complete.
Stay Informed
For more information about the project and to sign up for construction updates, go to: 101express.com. You can also follow the project on Twitter @CaltransD4.
For questions during construction, contact the Caltrans Public Information Officer: Alejandro Lopez at (510) 286-4948 or 101express@dot.ca.gov.
Budget:
|  Fund Source |  Amount* (in millions) |
| --- | --- |
|  SMCTA Local Measure A |  $30.50 |
|  Private Contributions |  $53.00 |
|  Federal |  $9.50 |
|  State |  $306.67 |
|  Regional |  $95.00 |
|  Future Toll Revenue (loan funding) |  $86.47 |
| Total |  $581.14 |
| *Includes environmental, design, right of way and construction phases |   |